Cranberry Lake

Eagle River - 10 minutes

Clarity: 5ft
Avg Depth: 9 ft
Max Depth: 23 ft
Size: 924 Acres
Type: Drainage
Access: Public

Cranberry Lake is one of the nicer and most popular lakes on the Eagle River Chain. It is a big lake with a real northwoods feel to it. It is situated far enough from town that it gets a little less traffic than some of the smaller chain lakes in town, but is still close enough to things that it is convenient. Cranberry Lake is also known to be a good fishing lake.

More information about Cranberry Lake
HOMES FOR SALE
A huge amount of land on big desirable water is very rare in the Northwoods! Here is a remarkable piece on the highly sought after Cranberry Lake on the Eagle River Chain of 28 Lakes! Cranberry Lake is one of the largest lakes (boasting 924 acres) on the Eagle River side of the chain. This parcel offers 26 acres and 1115' of water frontage. The land has plenty of high and dry ground and it is dividable. The parcel has had but one owner over the last 40 years. The Eagle River Chain offers 14+ bars and restaurants; it is the perfect chain for destination boating!! Take advantage of this unique opportunity and build your dream home on Cranberry Lake.
Price: $699,000
Acres: 26.48

Eagle River

/10 mins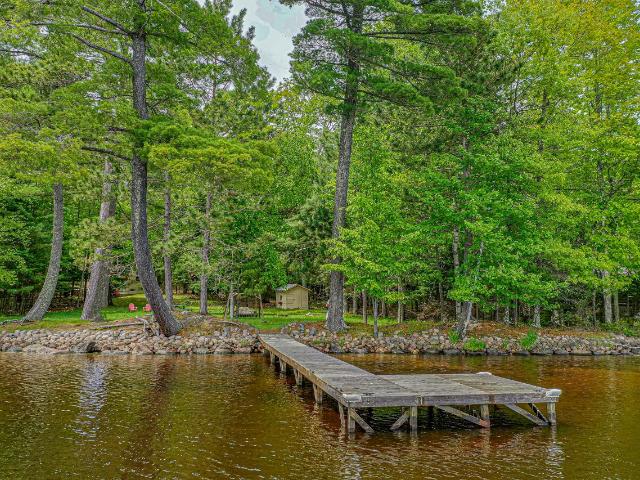 Year-round cabin with full basement. House and garage roofs are newer. Newer furnace, 35'-deep well, new refrigerator and dishwasher. This is the finest parcel on Cranberry Lake.! It offers 210' of level sand frontage on the crown jewel of the Eagle River Chain, Cranberry Lake. The 1.28 acre parcel is located on Musky Bay and overlooks Cranberry Island. The log-sided cabin offers 3 bedrooms and 1 bath and a great screen porch overlooking the water. . The home is well insulated and it has a newer furnace. A 2-car detached garage is also included. The lot features mature white and Norway pines and is located on a very private, dead-end road. This is the ultimate double lot on the ultimate lake on the Eagle River Chain. The view is to die for! The elevation and sandy swimming frontage are rare and this lot rocks! There are 28 lakes to explore and you are 15 minutes from the conveniences of Eagle River!
Price: $579,000
Finished Sq Ft: 1072

Eagle River

/10 mins
Can't find what you are looking for on Cranberry Lake?
SIGN UP TO BE NOTIFIED OF NEW LISTINGS ON CRANBERRY LAKE
LOTS FOR SALE
All listing information provided by Listing Office via Greater Northwoods MLS
If you are ready to start looking at Northern Wisconsin lake properties, I would love to be your agent. Every buyer is looking for something a little different and I take pride in finding the right properties at the right price that meet YOUR criteria. The ultimate goal is to make the buying process smooth and enjoyable for you and your family. You can tell from this website (hopefully!) that my focus is providing you with all of the facts to consider when buying a property. Allow me to apply my knowledge of the area lakes and the current real estate market to help you find your Northwoods paradise.
Choose me as your Northwoods real estate agent and you receive 100% effort guaranteed!
CRANBERRY LAKE DETAILS
WATER INFORMATION
| Size | Shoreline | Clarity | Water Color |
| --- | --- | --- | --- |
| 924 Acres | 9.6 Miles | Not Clear | Brown |
| Max Depth | Average Depth | Lake Access | Lake Type |
| --- | --- | --- | --- |
| 23 Ft | 9 Ft | Public | Drainage |
LAND INFORMATION
| High Speed Internet | Natural Gas | Cell Coverage | Home Density |
| --- | --- | --- | --- |
| Yes | Yes | Good | Average |
| Township | School District | Tax Rate / $1000 | Rentals on Lake |
| --- | --- | --- | --- |
| Washington | Northland Pines | $9.01 | Yes |
SURROUNDING ATTRACTIONS/PLACES TO GO
| Nearby Grocery Stores: | Distance: |
| --- | --- |
| Trig's | 14 mins |
| Pick n' Save | 17 mins |
| Roads Around Lake: | Closest Hospital: |
| --- | --- |
| Good | Eagle River / 17 mins |
Nearby Biking/Walking/Skiing Trails:
No nearby walking trails, but there are many within 15 minutes of the lake.
Nearby ATV Trails:
The Landover ATV Club Trails can be accessed on the south side of Cranberry Lake. This trail system is a vast network of ATV trails that connect Eagle River to Upper Michigan. There are a variety of riding options ranging from paved roads to trails through the national forests. By far the largest ATV trail network in Vilas County.
Nearby Paddling Routes:
No nearby routes, but the Chain of Lakes itself offers miles and miles of paddling.
Nearby Snowmobile Trails:
The Sno-Eagles Trail System tuns just to the north of Cranberry Lake. This trail system has over 100 miles of groomed trails that connect to everywhere you could think of going on a sled in Northern WI or Michigan. Trails are kept in great condition and are a major calling card of the area.
LAKE DEPTH MAP
PLACES TO EAT