Click to jump to that chain's listings
Extremely popular three lake chain in and around Minocqua with clear water.
Minocqua Lake
Bedrooms: 9
Bathrooms: 6.5
Sq Ft: 7,086
Minocqua
www.MinocquaManor.info - Magnificently located on the west shore of Lake Minocqua. Tudor style construction, established in 2008, presents an unrivaled & distinctive Northwoods Lake Home. Breathtaking Eastern views & sought-after ripple sand shoreline; located …
Tomahawk Lake
Bedrooms: 1
Bathrooms: 1.0
Sq Ft: 2,400
Woodruff
This Pristine Tomahawk Lake shoreline features a myriad of polished pebbles and rippling sand, a (24'x32') (2) stall Dry Boathouse w/ track systems & two docks. The 2.6 Acre property offers a prepped building site for up to a 8,000+ sqft home. This prestigious …
Minocqua Lake
Accepted Offer
Cozy cedar sided 2 BR, 2 BA home located on the much desired Minocqua Chain. This ranch-style home features 2 BR, 2 BA on the main floor, updated kitchen, new flooring, and an attached garage. The basement is unfinished and you could make what you'd like of it …
Minocqua Lake
Bedrooms: 3
Bathrooms: 1.0
Sq Ft: 1,071
Minocqua
What an opportunity to be on the Minocqua Chain of Lakes, the sellers have had a permanent dock lakefront for many years, slight slope, easy walk to the lake. Also, this path to the lake is used for snowmobile access. The home has been exceptionally well mainta…
A sprawling seven lake chain near Lac Du Flambeau with very clear water.
Little Crawling Stone
Bedrooms: 3
Bathrooms: 2.0
Sq Ft: 2,036
Lac du Flambeau
This beautiful 3-bedroom, 2-bath home offers many features buyers are looking for in today's market including first floor master suite and a hot-tub room. 210 ft of lakefront home is situated on Little Crawling Stone on the Lac du Flambeau chain of 10 lakes, 15…
Fence Lake
Bedrooms: 1
Bathrooms: 1.0
Sq Ft: 780
Lac Du Flambeau
Exceptional offering on the Fence Lake Chain! Wet boathouse with living quarters above, nestled in a private lagoon with direct big water access. Charming open concept studio apartment with kitchen area, living room w/FP, Murphy bed, full bath, 29' long sunporc…
Flambeau Lake
Accepted Offer
Looking for privacy on Big Water? This 3 bedroom 2 bath finished lower level house with fireplace and attached garage sits in the middle of 365' of frontage with sand beach, western exposure and almost 6 acres of privacy. Walk out your lower level onto the deck…
Crawling Stone Lake
Bedrooms: 3
Bathrooms: 1.0
Sq Ft: 1,600
Lac Du Flambeau
Northwoods Elegance. This historic Northwoods charmer has yesteryear character with modern day amenities. This park-like setting offers crystal clear water and sand frontage. The big water views include islands, peninsulas and mostly undeveloped shore lines. Th…
Fence Lake
Accepted Offer
STILL DREAMING ??? How about a chain of lakes without a lot of boat traffic & a chance to enjoy the sunsets & let the stress of life flow away? This may be what you are looking for! A cabin with western exposure, crystal clear water, and 10 lakes to explore. Th…
This nine lake chain in and around Eagle River connects to the Three Lakes Chain. Great boating and fishing.
An enormous nineteen lake chain near Three Lakes with mixed water clarity.
Three lake chain in and around Manitowish Waters with very clear water.
Wild Rice Lake
Bedrooms: 3
Bathrooms: 1.5
Sq Ft: 1,400
Boulder Junction
Enjoy 150' of pristine West facing frontage nestled along the shores of quiet and serene Wild Rice Lake in Boulder Junction. This one-of-a-kind property offers a true gem, a 23'x17' boathouse in the quiet East bay of Wild Rice Lake, perfect to enjoy summer suns…
Three lake 1,500 acre chain with clear water just outside of Presque Isle.
Presque Isle Lake
Bedrooms: 5
Bathrooms: 3.5
Sq Ft: 2,935
Presque Isle
Master craftsmanship and major proven investment return with this Steve Weber hand-scribed log home with stone lower level. Magnificent views of large, gin-clear water on 3-lake chain. Fully exposed lower level is also entrance level with 2 large bedrooms, fami…
A big four lake chain between Rhinelander and St. Germain with moderately clear water.
Dam Lake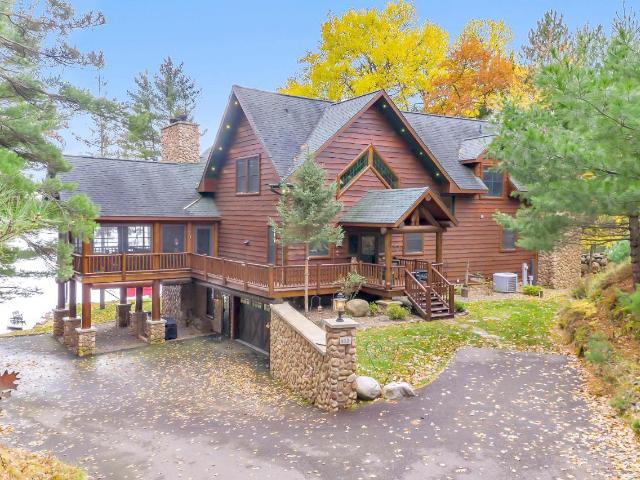 Bedrooms: 4
Bathrooms: 4.0
Sq Ft: 4,526
None
Welcome to your Luxury Northwoods Escape! Situated on 200.21 feet of level shoreline and sandy lake bottom frontage on Dam Lake at the end of the beautiful Sugar Camp Chain. Enjoy stunning southern exposure views while enjoying a toasty fire in the three season…
Dam Lake
Accepted Offer
Cozy 3 bedroom, 1 bath home on Dam Lake with Southern exposure and sand swimming frontage sitting on 6.17 acres. Dam Lake is a 744 acre lake that is part of the Sugar Camp Chain of lakes. Large living room with beautiful water views, bright sunroom and partial …
Chain Lake
Accepted Offer
This is where the word Nostalgic echoes! Sits atop the hill with a panoramic view of Channel Lake part of the 5 lakes, Sugar Camp chain, where fishing excels, boating, skiing, snowmobiling and even stop for lunch or dinner at the famous Pitliks. Cottage faces N…
Four lake chain in and around Rhinelander with good fishing and cloudy water.
Bass Lake(R)
Accepted Offer
This ranch-style home with 4 bedrooms and 2 baths sits on 0.79 acres with 116 feet of frontage on Bass Lake, part of the Rhinelander Chain, with a gradual slope to the water. Features a spacious living room with a Lannon Stone gas log fireplace.
Five lake chain six minutes west Rhinelander with cloudy water.
Moen Lake
Accepted Offer
Beautiful and well-maintained Moen Chain home. Built in 2005 this home is very well built, with genuinely nice detail throughout. The Open concept kitchen, dining and living area all flows together nicely and has a wonderful view of the lake. The living area wa…
A large three lake chain near Boulder Junction with clear water.
Smaller three lake chain with clear water between Lac Du Flambeau and Manitowish Waters.
This three lake chain is a three lake chain south east of Boulder Junction with clear water.
Big chain with 270 miles of shoreline that is mostly in MI. It is more isolated than other chains.
Mamie Lake
Accepted Offer
CISCO CHAIN ESTATE - One of the premier properties to ever be offered for purchase in all of Northern Wisconsin. Choose a superlative and this incredible estate will meet and exceed it. Nestled on the shores of Mamie Lake, part of the pristine Cisco Chain of La…
Mamie Lake
Bedrooms: 6
Bathrooms: 3.5
Sq Ft: 3,090
Land O Lakes
AN INCREDIBLE OPPORTUNITY ON OTTER POINT!- Private and spacious, this 11.2 acre property with 690' of Cisco Chain sand/fishing frontage is just what you've been looking for! Located on 337 acre Mamie Lake, the primary home features 4 bedrooms, 3.5 bathrooms and…
Big Lake (L)
Accepted Offer
Wisconsin side, Big Lake, Cisco Chain. Family Compound / Mini Resort . Yesteryear revived ! These 2 year round homes and cabin encompass these beautiful grounds and have been revived to capture the true essence of the Northwoods Lake Camps we all remember and l…
Three lake chain with cloudy water near the WinMin Trail system.
North Turtle Lake
Accepted Offer
Stunning lot on the very popular Turtle Chain in Winchester, WI. Lot presently has an older home that needs repairs and foundation work. Selling it as a vacant lot with septic and pier. Gentle slope to the waterfront. Gorgeous West Sunset views! Rare to find a …
North Turtle Lake
Accepted Offer
Cozy, seasonal condo cottage with wet boathouse that has a deck above. Cottage comes furnished right down to the dishes, pots & pans, small appliances, refrigerator, stove, microwave, gas grill, fishing boat with trailer. Cottage has hardwood floors, Vermont wo…