Crawling Stone Lake

Lac Du Flambeau - 7 minutes

Clarity: 17 ft
Avg Depth: 31 ft
Max Depth: 87 ft
Size: 1,483 Acres
Type: Drainage
Access: Public

Crawling Stone Lake is a very clear, very deep lake. While it is connected to other lakes on the Fence Chain, it does not see as much traffic as typical chain lake. Crawling Stone Lake offers a real northwoods feel while not being too far away from Minocqua. If you're a gambler, the Lake of the Torches Casino is just a boatride away.

More information about Crawling Stone Lake
HOMES FOR SALE
Crawling Stone Point Estate. Rarely does an estate to this stature become available. Here is your chance to own a sprawling compound with a wet boathouse and multiple guest homes that encompass the entire peninsula with the utmost privacy. Big Crawling Stone Lake (part of the 10 lake Fence Chain) is known for its sandy beaches, gin-clear water, and excellent fishing. The grand main home features 3 BR, 3 BA, a stately great room with stone fireplace, and water views from every room. The wet boathouse has 3 BR, full bath, & kitchen. Below are 2 stalls to park your inboard ski boats and endless toy storage. There are 2 guest homes that each have 3 BR, a full bath, kitchen and multiple garages. This property has been in the same family for many generations with so many memories created here. With 2.49 acres and 945' perfectly level frontage, you would own one of the rarest parcels on this lake with endless lake views! Visit www.crawlingstonepoint.com for add. info!
Price: $1,890,000
Finished Sq Ft: 5317

Lac Du Flambeau

/7 mins
This property has many of the desirable amenities most folks are looking for. The home is located right at the shore. When you stand in the kitchen or living room and look out the wall of windows at lakeside you almost think you are on a boat, all you see is lake. The lake is crystal clear and the property has the best sand lake bottom on the planet. The home enjoys an open great room with 2 bedrooms and a bathroom on the mail level and a family room and 3rd bedroom on the lower level. There is also a walkout at lakeside on the lower level. Additional amenities include an open sun deck, oversized garage and an old guest cottage that has its own septic system. A new owner may desire to renovate the cottage or make it go away. Also included is a .68 acre adjoining back lot . An exceptional and unusual opportunity on the fabulous Flambeau/Fence lake Chain of lakes.
Price: $399,000
Finished Sq Ft: 1356

Lac Du Flambeau

/7 mins
Tear down or remodel....you decide! 99 feet of gorgeous sand frontage with half an acre on 1,446 acre Crawling Stone Lake on the Fence Lake Chain! Property has an old 4BR, 1BA home that could be a tear down OR fixed up if someone wants to do the work. 4BR replacement septic system was installed in 1998 and is on the Vilas County maintenance program per Vilas County. Crawling Stone Lake is 1466 acres of crystal clear water with depths up to 87 feet and is known for great recreation!
Price: $275,000
Acres: .58

Lac Du Flambeau

/7 mins
SIGN UP TO BE NOTIFIED OF NEW LISTINGS ON CRAWLING STONE LAKE
LOTS FOR SALE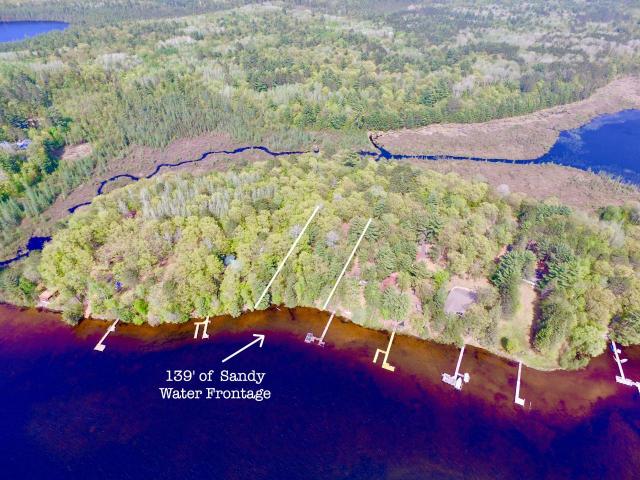 Imagine sitting in the water with your toes in the sand, in Northern Wisconsin. This property features 139' of sand frontage, crystal clear water, and a great building site for your new lake home. There is even a 4-car detached garage for storage. Crawling Stone Lake is 1483 acres, 87 feet deep and part of a 10-lake chain with multiple restaurants and a casino! There are also a few other small lakes that are only accessible by canoe or kayak. This property has been in the family since 1964 and is truly one-of-a-kind. Don't hesitate to call today.
Price: $289,000
Acres: .82

Lac Du Flambeau

/7 mins
All listing information provided by Listing Office via Greater Northwoods MLS
If you are ready to start looking at Northern Wisconsin lake properties, I would love to be your agent. Every buyer is looking for something a little different and I take pride in finding the right properties at the right price that meet YOUR criteria. The ultimate goal is to make the buying process smooth and enjoyable for you and your family. You can tell from this website (hopefully!) that my focus is providing you with all of the facts to consider when buying a property. Allow me to apply my knowledge of the area lakes and the current real estate market to help you find your Northwoods paradise.
Choose me as your Northwoods real estate agent and you receive 100% effort guaranteed!
CRAWLING STONE LAKE DETAILS
WATER INFORMATION
| Size | Shoreline | Clarity | Water Color |
| --- | --- | --- | --- |
| 1,483 Acres | 9.1 Miles | Very Clear | Blue Green |
| Max Depth | Average Depth | Lake Access | Lake Type |
| --- | --- | --- | --- |
| 87 Ft | 31 Ft | Public | Drainage |
| Lake Restrictions | Public Launch | Noise Level | Lake Grade |
| --- | --- | --- | --- |
| Fishing | No | Average | A |
LAND INFORMATION
| High Speed Internet | Natural Gas | Cell Coverage | Home Density |
| --- | --- | --- | --- |
| Yes | No | Good | Average |
| Township | School District | Tax Rate / $1000 | Rentals on Lake |
| --- | --- | --- | --- |
| Lac Du Flambeau | Lakeland Union | $10.30 | Yes |
SURROUNDING ATTRACTIONS/PLACES TO GO
| Nearby Grocery Stores: | Distance: |
| --- | --- |
| LDF Country Market | 9 mins |
| Lac Du Flambeau Grocery Store | 9 mins |
| Walmart | 20 mins |
| Trig's | 20 mins |
| Wild Berry Market | 20 mins |
| Roads Around Lake: | Closest Hospital: |
| --- | --- |
| Average | Minocqua / 20 mins |
Nearby Biking/Walking/Skiing Trails:
Lac Du Flambeau Bike Route - The Lac Du Flambeau Bike Route runs on the north side of Crawling Stone Lake and offers two loop lengths (depending whether you go around Flambeau Lake or Pokegama Lake) of 7 and 11 miles from the starting point in downtown Lac Du Flambeau. There are bathroom available at the starting point. The route is a road route so it isn't a perfect biking option, but it is a marked route so drivers should be more aware of your presence than if you were on a typical back road.
Nearby Paddling Routes:
No nearby paddling routes but the Fence Lake Chain is huge and you can paddle for days taking it all in.
Nearby ATV Trails:
No nearby trails
Nearby Snowmobile Trails:
The Northern Hornshoe Snowmobile Club Trails can be accessed on the northeast side of Crawling Stone Lake. This trail system consists of more than 28 miles of groomed trails around Lac Du Flambeau. The trail system connects to other systems giving you access to anywhere you want to go explore on your sled.
LAKE DEPTH MAP
PLACES TO EAT